"If you can change how you live, then you can change your life"
Dr Catriona Walsh, Nutrition and Lifestyle Coach
I help people who've had MRI Contrasts or who have chronic illness reclaim their health using nutrition, lifestyle and supplements
Sign up to my newsletter to be notified about new blog posts, occasional special offers, promotions, information about new products and other important details. Don't worry, if you change your mind, it's easy to unsubscribe at any time.
You'll also receive the essential guide to MRI contrast side effects for free. You can find out more about the free guide here.
Are you tired of feeling tired all the time?
I feel you. I've been physically, emotionally, and mentally exhausted, too
Are we in a pandemic of people being tired all the time? It certainly feels like it.
Are you one of the many professionals who are exhausted, run down and worn out trying to juggle all of life's crazy circus balls without stopping to take care of themselves? Have you ever asked yourself "why am I always so tired?"
Life can be demanding at the best of times.
And so many different things make claims on your energy. Obviously, there's the stress of working long hours, looking after your family and attempting to have a life outside of work. You have every right to feel tired all the time.
But sometimes life throws you another curveball. Or a series of well-aimed missiles. 
For me, one of those was an MRI contrast using a toxic heavy metal called gadolinium. I thought I was tired all the time before that. Let's be honest here, I was exhausted. Running on fumes from the stress of work, life and other things.
Over the years, I've had plenty of challenges to my health. Nothing compared to what happened after a single toxic MRI contrast. 
So if you're feeling crushed and overwhelmed, I know just how that feels. 
The good news is that I and lots of my clients have been able to reclaim our energy levels. Not only that, but feel healthier, happier and spend more precious time with family and friends.
When people choose to work with me, what they're really after is to get some degree of normalcy back in their lives. They feel like something indescribably precious has been stolen from them: their vitality. Together, we work on reclaiming that.
And I can help you on your journey to restoring your health as well. Provided you're committed to making some positive changes to your diet and lifestyle you should start seeing some great results too. It doesn't matter whether your last gadolinium contrast scan was last week, or several decades ago. I know things that can help you start to feel better.
Listen to your fears, experiences, frustration, anger and wonderment.
Try to connect the dots so that I can guide you to make better choices, based on your own individual needs and preferences.
Stand shoulder to shoulder beside you as an ally
Advocate for you.
Give you hope that you can live a life that isn't dominated by pain, fear, exhaustion, and sickness.
Provide you with clarity about which dietary choices will help you to heal, and which which are holding you back.
Help you to really nurture yourself. We'll focus on nourishing foods and practices that feel decadent.
Help you to rediscover what brings you joy, and encourage you to set aside some time regularly to engage in satisfying pursuits, and
Identify some supplements that can help support your health
Why have I made Nutrition and Lifestyle Coaching my life's work?
I adore hearing about people's journeys: how I can take them from feeling tired all the time and merely surviving to thriving.
I like to think of it like going on a road trip with you. You're driving, and I'm in the passenger's seat. We both know where we want to end up, right from the start. But I know the terrain better. You decide the destination, what speed to go, what we listen to on the journey, and where you want to make stops along the way. I provide the directions, inform you of some interesting sights that you might want to stop at along the way, and give you encouragement.
Consequently, I love empowering people, just like you, to realise that if they can change how they live, then they can change their lives.
Meanwhile, I share their joy and optimism when they get off long term medications. Simultaneously, they start looking and feeling better than they have in years. In addition, I love to hear the relief in their voices when they no longer spend time worrying about their future. Most importantly, they can let go of the fear they won't be there for their children.
My clients finally feel confident they're making good food choices. Together, we also work towards facing a future filled with possibility, instead of dread. As a consequence, they look and feel great.
Is it any wonder I love what I do? And so I'm filled with gratitude that I get to go on this journey with my fabulous, fun clients. Thank you for placing your trust in me.
My time is valuable and so is yours. If you're late for your appointment, you lose that time. If you don't show, you'll still be charged in full. In turn, I promise to honour our appointments and be on time as well.
Get to know me a bit better?
WELCOME TO THE FOOD PHOENIX
Nutrionist with experience in gadolinium toxicity and feeling tired all the time
Hi. I'm Belfast-based nutritionist, Dr Catriona Walsh, a practitioner with 15 years' experience in the healthcare industry working as a paediatric doctor all over Northern Ireland. That was before adopting a more holistic way of treating people. I provide a professional therapy service which focuses on authenticity and integrity.
As a therapist and coach, with expertise in nutrition and lifestyle, I provide a friendly, welcoming service that's non-judgmental. Above all, I am committed to helping you optimise your own health, and that of your family or staff.
My special interest is in helping people, like you, who are suffering a decline in their health following a gadolinium based contrast enhanced MRI scan, and people with hypermobility. My experiences with both gadolinium toxicity and hypermobile Ehlers Danlos Syndrome mean that I can leverage what I've learned in my own health journey in order to help you. If you've had an MRI contrast and haven't felt right since then you should check out this post to find out whether your symptoms fit the picture of gadolinium deposition disease.
And I also help people who are tired all the time and suffering from work-related stress. Because I've also been through work burnout.
Moreover, I can analyse your diet with a high degree of accuracy using a computer program. In this way, I can easily identify nutrient imbalances, which are common causes of being tired all the time. It's a powerful tool which enables me to provide you with much more specific advice. As a result, I can show you how to modify your diet to best optimise your health and wellness.
Therefore, my recommendations are individualised to your own unique preferences and requirements. Consequently, we'll co-create an action plan aimed at achieving results you'll love, while you'll always feel in control.
My Training In Nutrition And Lifestyle Coaching
My training, as a Nutrition and Lifestyle Coach, through the Institute of Health Sciences, Dublin, provides the highest level nutrition coaching qualification available. This has allowed me to extend my expertise in several ways. Principally, regarding the way that diet and lifestyle changes can impact your health and wellbeing.
For me, the best thing about this is that I get some incredible results with clients that I never achieved when I was medicating them with drugs. Now that I understand so much more about the science and the politics behind Big Food and Big Pharma, it's clear that nutrition and lifestyle coaching is backed up by rigorous science. The pharmaceutical model? Nah. Not so much. And you can find out why in this article that I wrote.
In short, you'll be able to successfully integrate changes into your life in small, manageable (bite size) steps without feeling deprived or overwhelmed.
It's so easy to book a FREE clarity call with me, what's stopping you? Book your FREE discovery call now.
What some of my clients say
I have more energy, sleep better, feel better in myself. Before I was completely exhausted and felt drained constantly. I was at a loss as to what and how to change my lifestyle
I was diagnosed with Type 2 diabetes last January and sought help from Catriona to improve my diet and lifestyle. Her combination of expertise in medicine and nutrition was so helpful - I am now managing my sugar levels without medication due to the changes in my diet and exercise regime. Catriona is very warm and generous with her time. She helped me set and keep track of achievable and sustainable goals. I feel healthier than I have for a long time.
The direct correlation between an improvement to my health, as I introduced more of your suggestions, is undeniable. I am in a completely different mindset as to how important my diet is, having suffered from reoccurring sickness for almost 16 years. I never could get the link before between the pains I suffered (and the flu-like symptoms I had) with my diet… It's hard to express the difference it has made. I now feel my future health can be determined by my own eating habits...something that is of great relief having never been able to get any long term solutions despite numerous doctors investigations. I'm changing eating habits for our whole family.
I saw Catriona after the birth of my second child, and am really glad I did. She did a detailed analysis of my typical diet and identified several key nutrients that I was not getting in sufficient quantities. She reviewed all my health information and family history and listened to my concerns. She then helped me make an achievable action plan to follow, and I really do feel I've benefited so much from her input. I would definitely recommend
Catriona is outstanding in her knowledge and understanding on how the human body works and what we need to do to make it work better. She is the only practitioner that I fully trust with my own and my family's health.
I'd recommend Catriona to anyone who has been affected by an MRI contrast. She's done as much research as anyone on how gadolinium affects your body. And she can offer far more holistic and effective changes to aid your recovery than any traditional western doctor will. Now I'm happier, better able to exercise, and have more energy. I've noticed a decrease in symptoms across the board.
A PICTURE TELLS A THOUSAND WORDS...
What better way to showcase the results you can expect when you embrace diet and lifestyle changes?
Here's one of my clients who's suffered from psoriasis and eczema for 30 years. She'd needed high dose topical steroid creams and vitamin D analogues almost constantly throughout that time. Implementing appropriate dietary and lifestyle changes, along with some targeted supplements, gave her visible results within days. Now she's off her medications for the first time in years, and feeling much more comfortable and less tired all the time.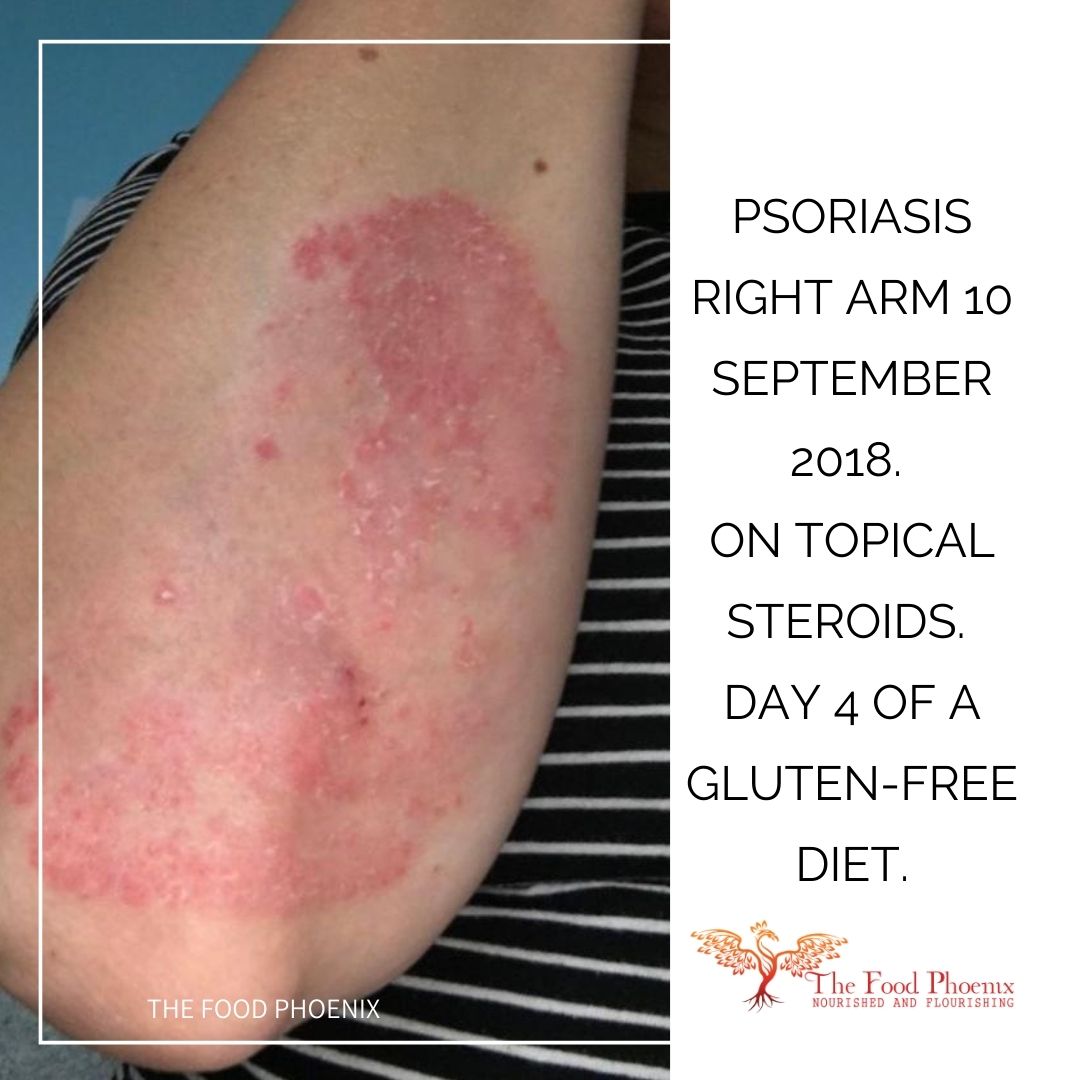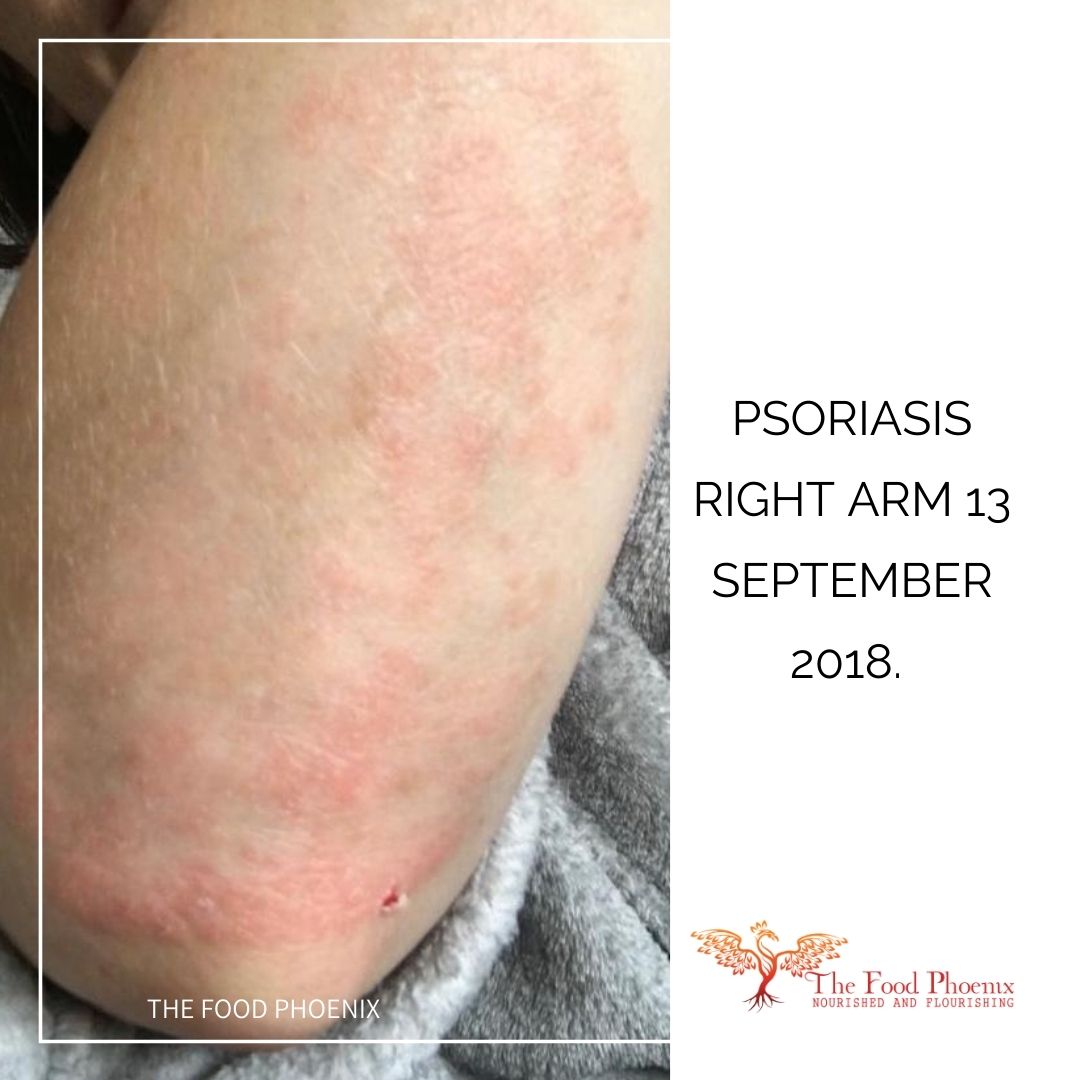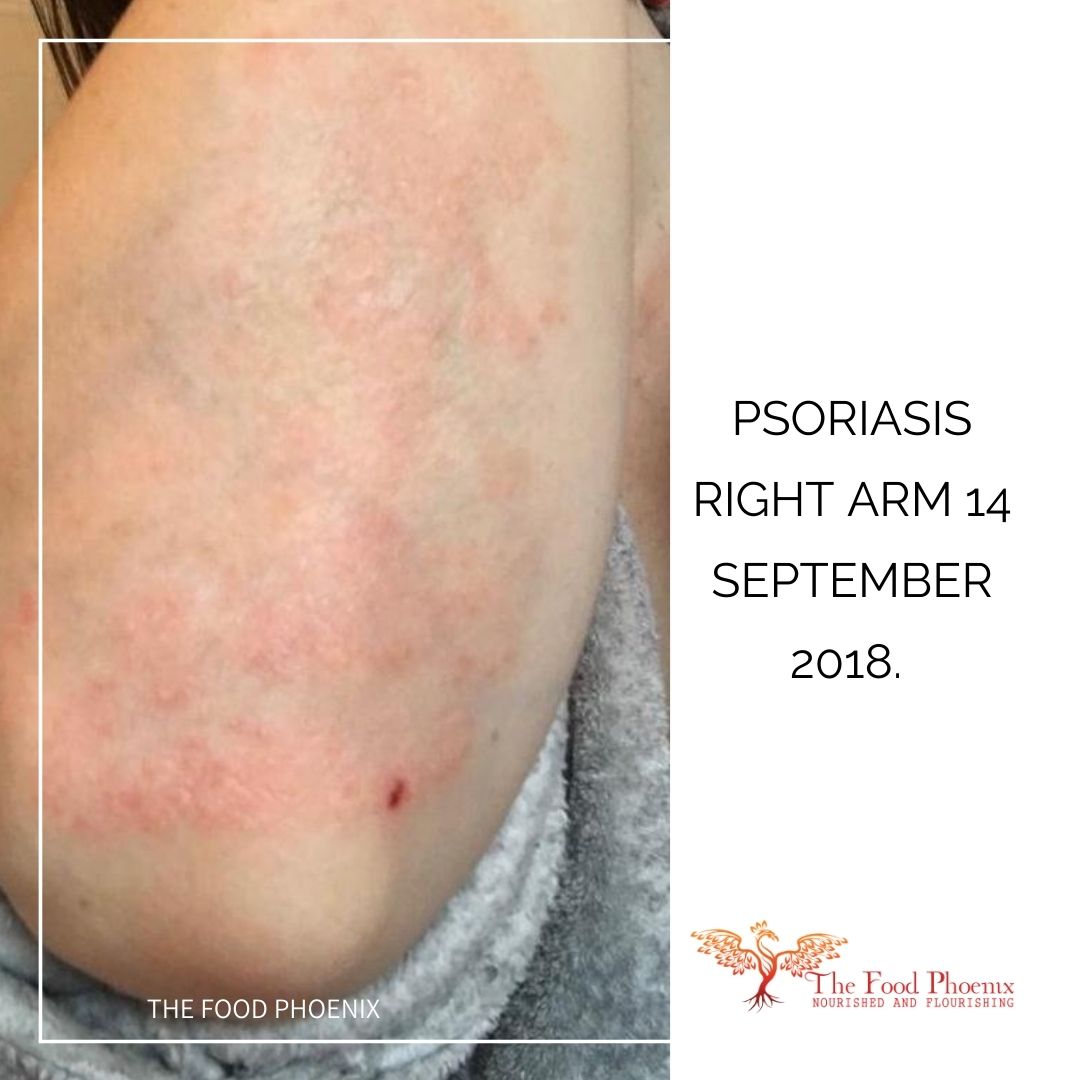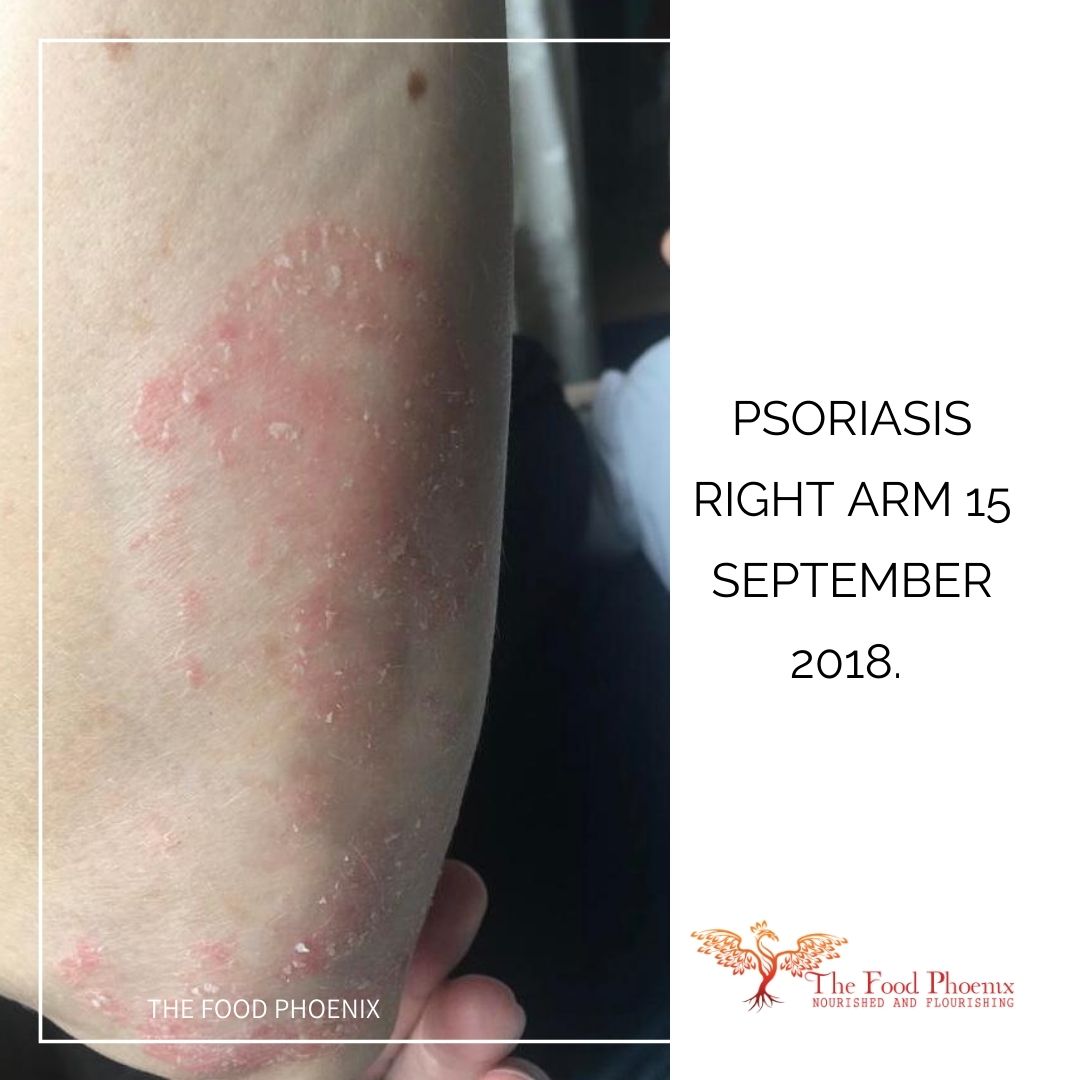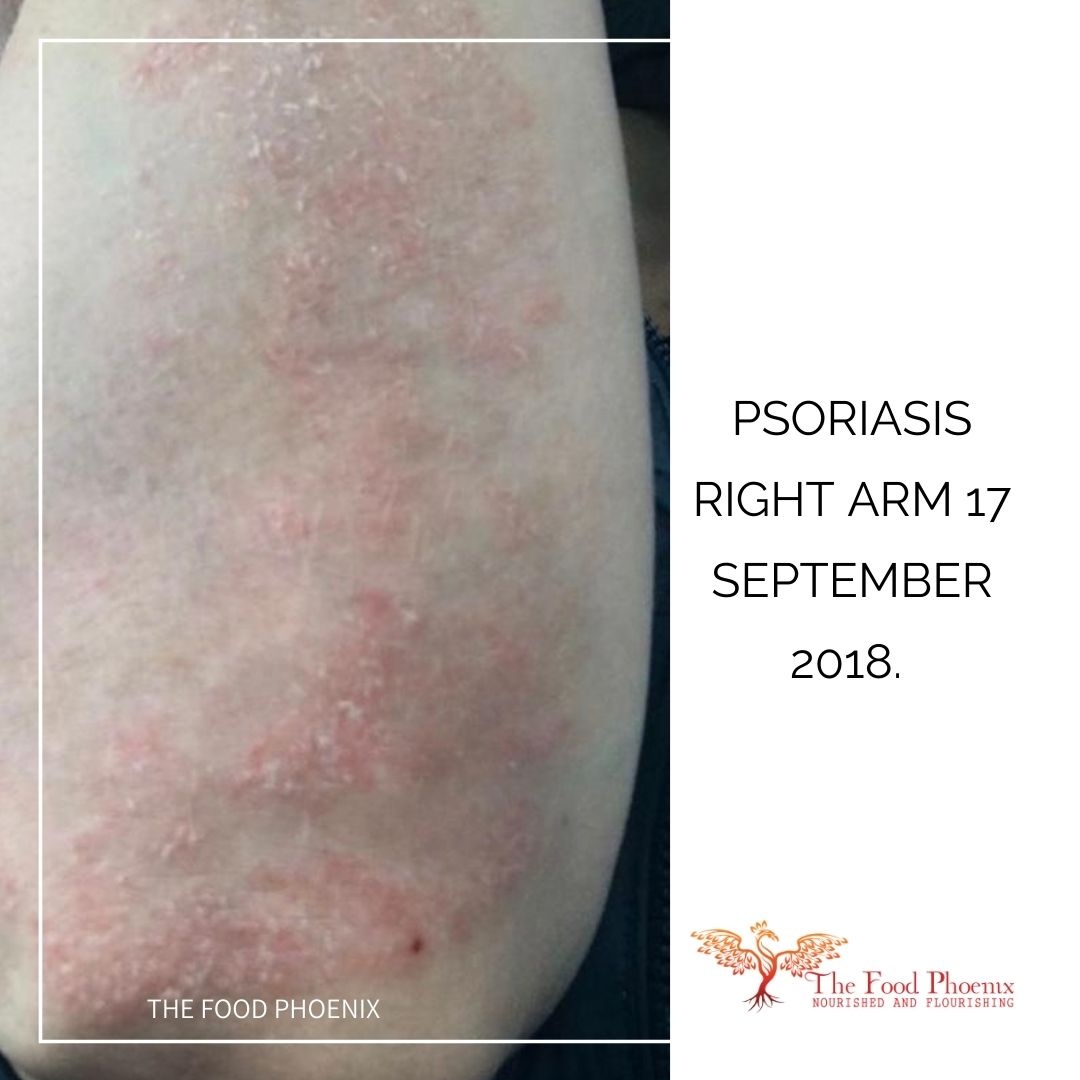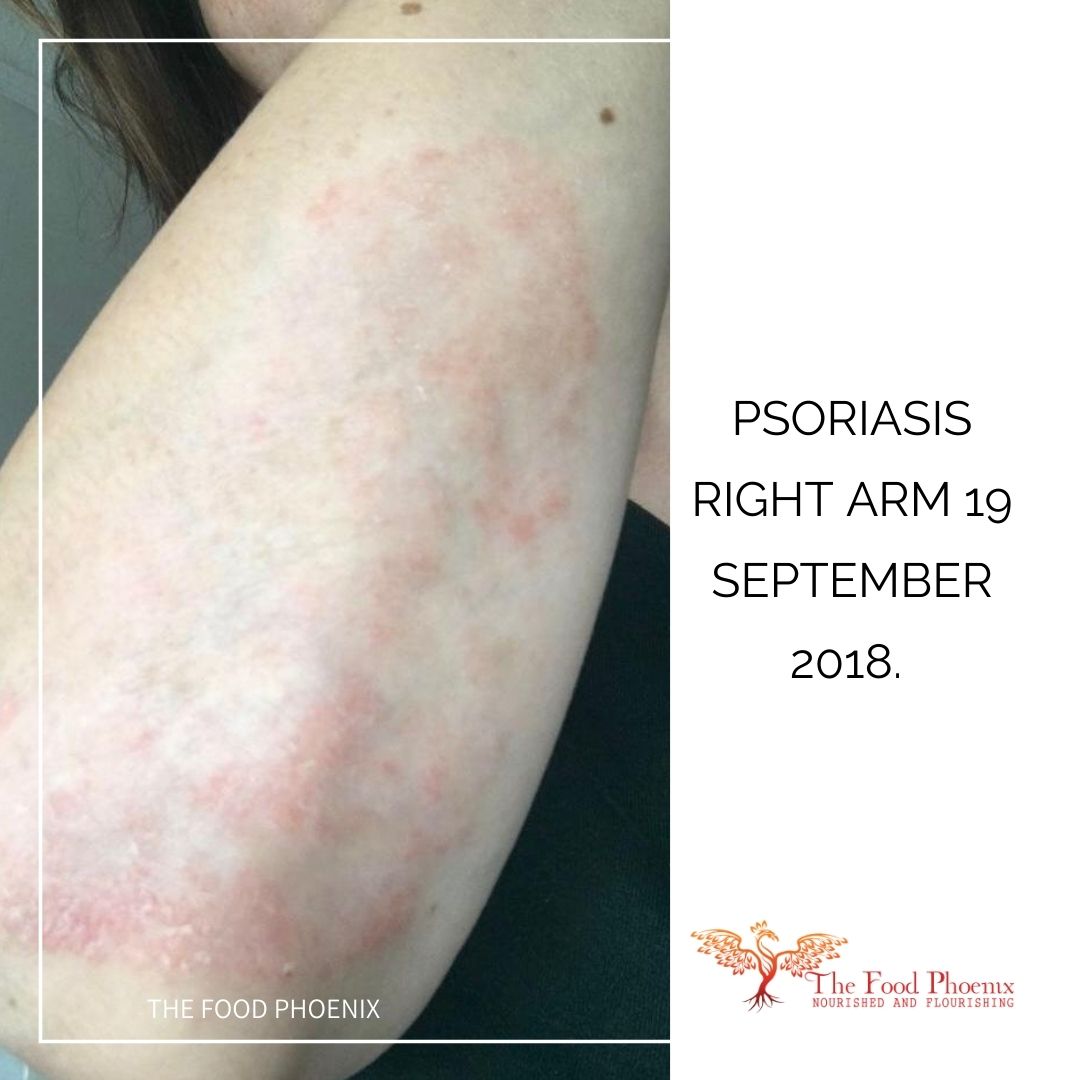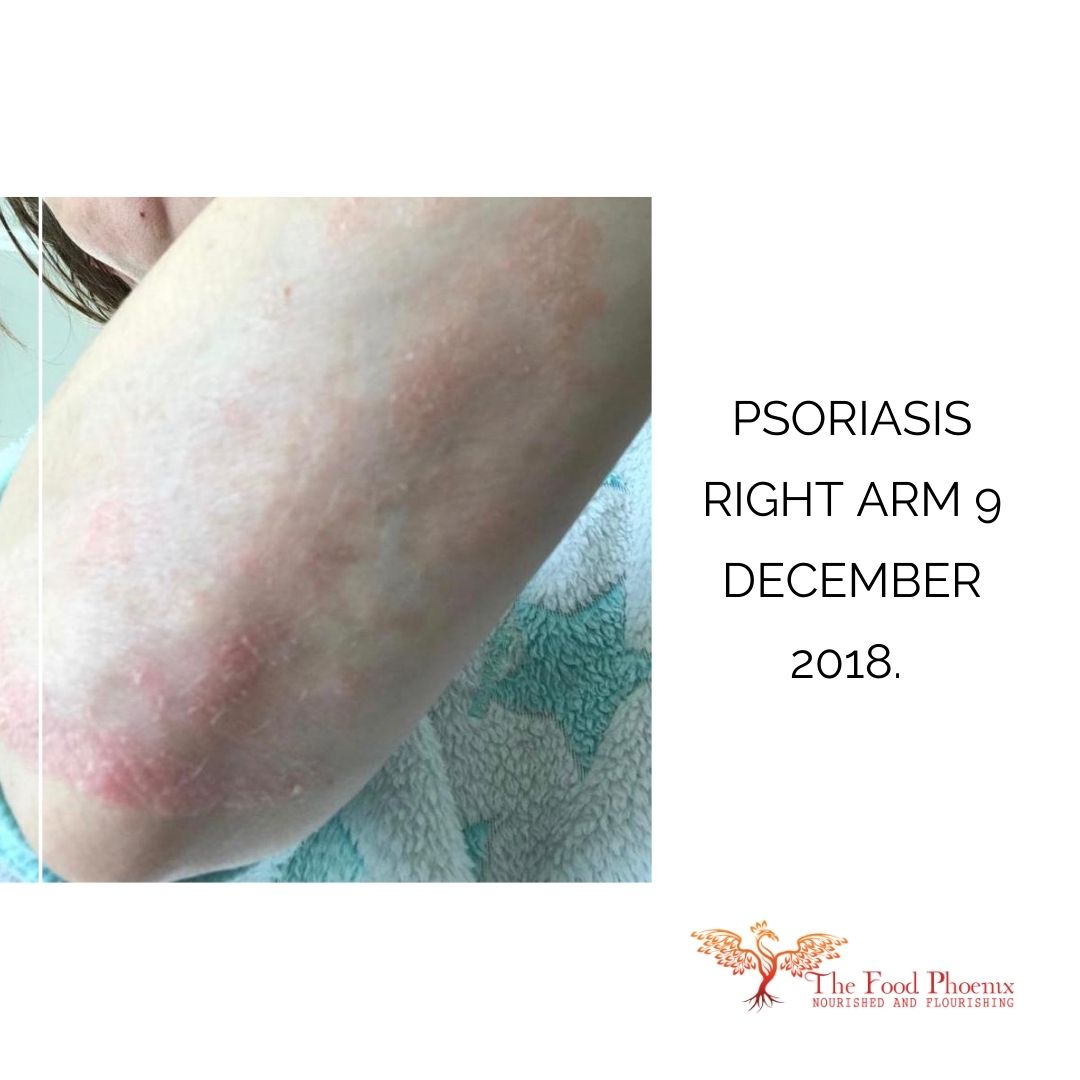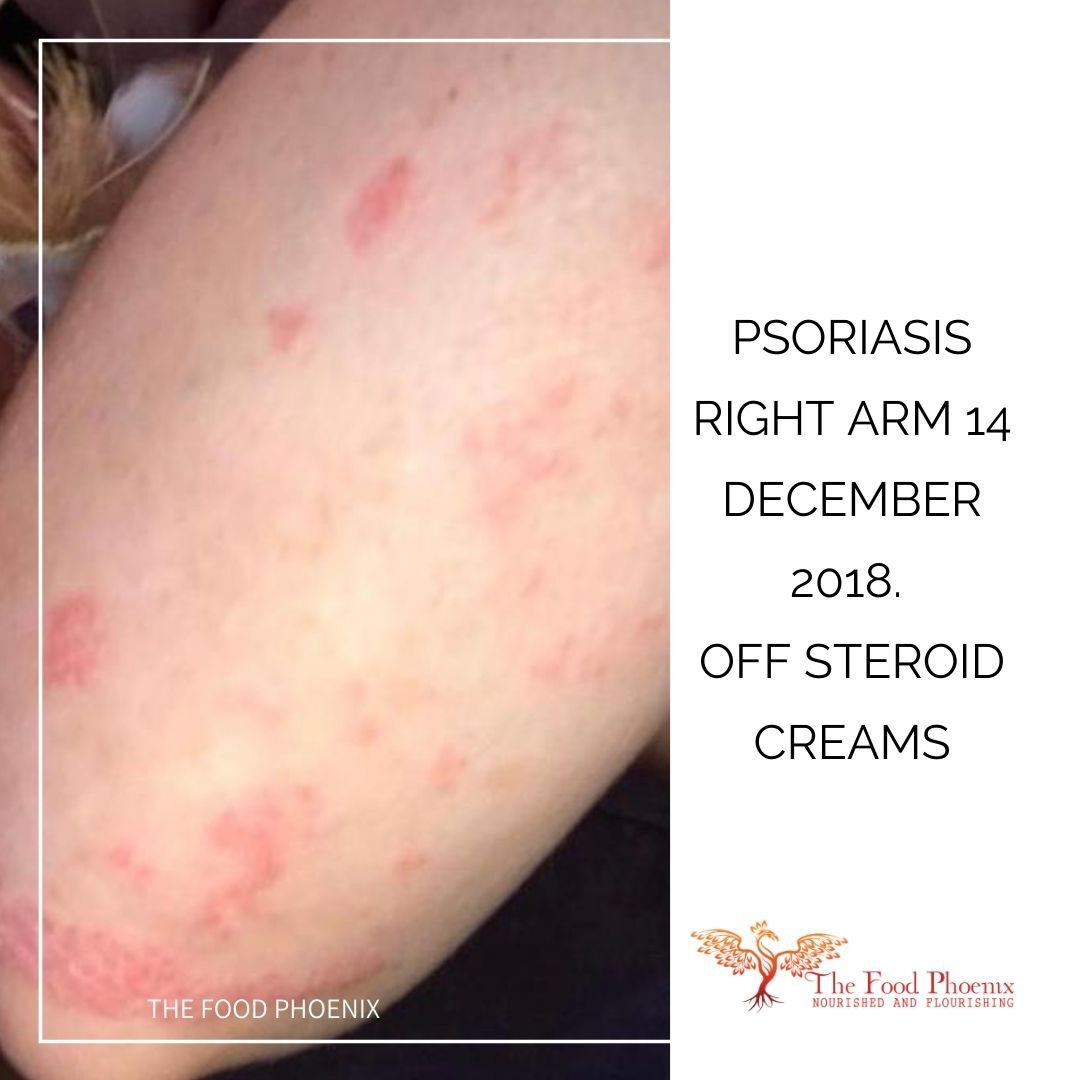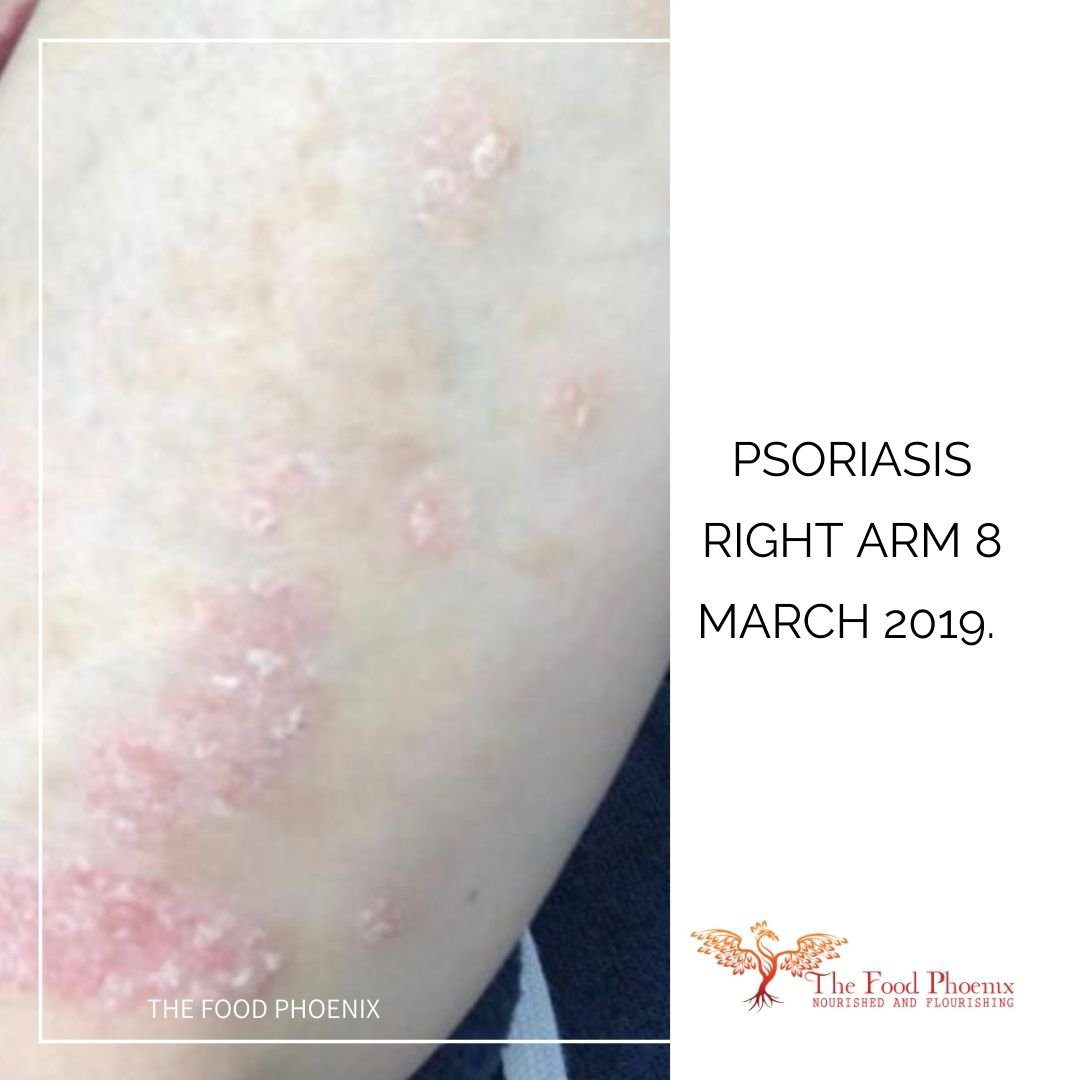 My mission, as a nutritionist and coach with additional training in lifestyle medicine, is to motivate and empower you with the knowledge and skills to optimise your happiness and wellbeing. I aim to help you celebrate your individuality, recognising your innate resilience and ability to heal. I want to encourage you to realise your full potential and flourish. Together we can accomplish this by focusing on nurturing and nourishing you. In addition, I want to encourage you to grow and thrive physically, mentally, emotionally and spiritually. My goal is to guide you on your journey of transformation into a healthier, revitalised, vibrant, authentic version of yourself.
WOULD YOU LIKE TO FIND OUT A BIT MORE ABOUT ME? ARE YOU CURIOUS ABOUT WHY I'M SO PASSIONATE ABOUT WHAT I DO?
You can watch the interview I did with Sky News about gadolinium toxicity
You can read my interview with the Daily Mail below
The Daily Mail interviewed me about my experiences after a single gadolinium based contrast agent. It's part of a feature they did on gadolinium. You can read it here.
If you'd like to hear the Podcasts I've been interviewed on, you can find them here
Simple Steps to Wellness podcast episode. "Stress and Burnout: Are you at risk?" If you're tired all the time and trying to find more energy, you won't want to miss this podcast episode.
Quax Podcast episode. "MRI contrasts can wreck your body." Lucas from the Quax Podcast interviewed Mollie of MRIdye.com and me about our experiences with gadolinium contrasts. We also shared some of the approaches that are helping us to recover from being tired all the time.
Glitching podcast episode. "Diet and Lifestyle." Cathy and I have a great chin wag about how diet and lifestyle aren't optional if  good health is your goal. Cathy's also from Belfast. So it's double the Northern Ireland accents.
Untaming podcast episode. "Are your kids really eating nutritious food?" Did I mention I used to be a paediatrician before I did a career U-turn? You can find out why in this article. Anyway while I was still a consultant paediatrician, I started going down the rabbit hole of nutrition for child health. It led me to places I hadn't expected. In this podcast, I discuss what I learned.
Find me on Google by searching for Belfast nutritionists, nutritionist near me, or health coach near me