Pulled pork is one of the most delicious meals I love to prepare. It's succulent, full of flavour, and soft and easy to chew. Of course, pork is already a nutritious food. It's loaded with: 
complete protein, 

high amounts of most B vitamins, 

and a hefty complement of minerals, including iron, zinc, and selenium.
But if you're looking for a healthy pulled pork recipe crammed with flavour and nutrients, you've come to the right place.
Because to improve the nutrient density of this pulled pork recipe, I've added some organ meats. Hang on a second. Don't go just yet. Before you start gagging convulsively and disappear into the blogosphere in search of a safer pulled pork recipe to try, hear me out. Because even if you don't enjoy the taste of organ meats or have been too intimidated to try them, fear not. Because this pulled pork recipe doesn't club you over the head with the overpowering flavours of the organs. Instead, expect a dish that smells and tastes deliciously porky with oodles of umami.
Of course, if you love the intense flavours of organ meats and don't find them intimidating to prepare, you can increase their relative amounts and reduce the amount of pork to get your organ meat fix.
I feel you might need some more convincing about the benefits of including organ meats like kidneys and heart in your diet.
In case you're not familiar with the reasons for including organ meats (called offal in the UK) regularly in your diet, let's take a moment to recap. The organs are some of the most nutritious superfoods on the planet. However, organ meats nutrition is usually underrated even by nutritionists. While the popular press and nutrition blogs often vaunt vegetables like kale as the pillars of a healthy diet, you might be surprised to learn that the nutrient content of vegetables pales compared with some of the organ meats.
Organ meats are excellent sources of the vitamins and minerals many people are most deficient in. They're often extremely high in vitamin B12, iron, selenium, riboflavin (vitamin B2), vitamin B5, and zinc. Kidney is one of the best sources of selenium; liver is the top source of vitamin A and an excellent source of copper.
Organ meats are the organs of an animal that are consumed as food. People have always eaten organs and prized them above muscle meats. Traditional cultures all over the world have developed delicious recipes that include organs. However, it's only in recent decades that people in English-speaking countries have started to turn away from including organ meats as a dietary staple. Bland smelling and tasting foods like chicken, white fish, and grains have supplanted the more robust-tasting red meats, oily fish, and offal like liver, kidneys and heart.
But as recently as World War 2, people routinely served variety meats like stuffed hearts, tripe, liver, brains, and kidneys. During rationing, organ meats were, for the most part, exempt. And people were healthier for including them. However, many people overcooked liver, resulting in tough, chewy textures that were challenging to enjoy.
The availability and promotion of ultra-processed food and changes in attitudes to weaning conspired to displace traditional foods from the diets of young and old.
Meanwhile, attitudes to weaning infants in English-speaking countries changed. People began to think of tastes for food as inherent rather than something that developed over time and exposure. And weaning advice morphed so that young children were introduced early on to the blandest, sweet and starchy high carbohydrate foods first. Foods like baby rice, rusks, toast, cereals, sweets, chocolate, crisps (potato chips), french fries, potatoes, battered chicken, fish fingers, carrots, and sweetcorn became popular weaning foods. More ultra-processed foods began to replace real food. Then over time, the assumption started to creep in that children (particularly toddlers) were picky eaters by default and couldn't learn to enjoy more intense tastes.
Now so few people in English-speaking countries like the USA, Canada, the UK, Ireland, New Zealand and Australia grow up consuming organ meats that it's unusual to find people who learned from their parents how to cook them.
And that can make it intimidating and unappealing to begin dipping your toes into the seedy underbelly of culinary offal preparation. So much so that it can be hard to source organ meats in shops. Although this often depends on where you live. You'll often find a diverse range of nose-to-tail delicacies in towns and cities with a large immigrant population where people brought their traditional cuisines with them when they emigrated.
If cooking offal is new to you, you might want to begin with a recipe where the flavour and appearance of the innards are somewhat disguised. So this pulled pork recipe will be right up your alley. You can even serve it to your kids; they'll love it!
This recipe includes lamb (or goat) kidneys and heart. But there are plenty of other sorts of offal. And you can incorporate any of them. So what are some more examples of offal you could throw into the pot? Here are some suggestions:
Liver (the most nutritious of all foods. I like to fry up a slice of goat or veal liver to eat alongside this pulled pork. Who says sides have to be vegetables?),

Tongue (a superb choice for carnitas),

Gizzards (some of the tastiest nuggets from a chicken. Need to be cooked properly to avoid being tough and chewy),

Tripe (surprisingly hard to get a hold of where I live),

Trotters (oh so delicious, but picking out the tiny bones is a chore!),

Pigs ears,

Sweetbreads, 

Testicles (affectionately called Rocky mountain oysters),

Brains (also very hard to find where I live. Brains probably do better with gentler, shorter cooking. They're delicious and delicate tasting – surprisingly similar to scrambled eggs in taste and texture but with a hint of more iron), and

Tendon.
Blood, spleen, oxtails, lungs, and intestines (chitterlings) also count as organ meats. But the flavours might not be quite right for this recipe. Or maybe they're perfect for it. Who knows?
I've discussed the benefits of medicinal mushrooms a little in some other posts. You can read more about them here. And if you're looking for another recipe using medicinal mushrooms, why not try this delicious honey pulled beef brisket with herbs? 
So how does this pulled pork recipe stack up in terms of nutrition?
Not too shabbily. A single portion of this pulled pork recipe exceeds the daily recommended dietary allowances for protein, thiamine (vitamin B1), niacin (vitamin B3), pantothenic acid (vitamin B5), and vitamin B12. But also provides at least: 
95% of your selenium, 

four-fifths of your riboflavin (vitamin B2), 

three-fifths of your vitamin B6, 

three-quarters of your zinc, 

about half of your biotin (vitamin B7), 

two-fifths of your copper, and 

a third of your iron requirements.
Heart is also one of the top dietary sources of Coenzyme Q10, a powerful antioxidant essential for energy metabolism and necessary for mitochondria to function optimally. CoQ10 is one of the most popular supplements to support energy, heart and neurological health.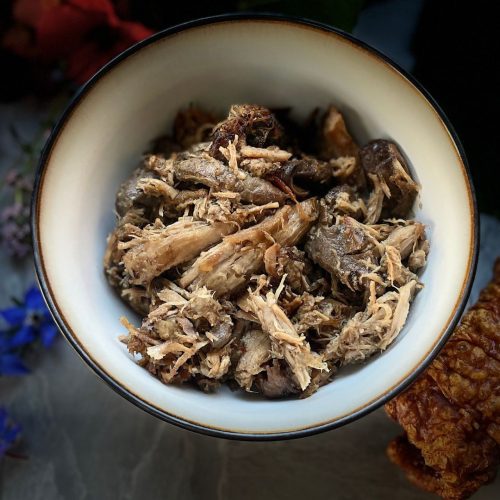 Pulled pork recipe with medicinal mushrooms for the Instant Pot
This delicious pulled pork recipe incorporates some organ meats to boost the nutrient content even further. It even includes some medicinal mushrooms to add additional antioxidants and mitchondrial supporting nutrients.
Equipment
1 Pressure Cooker

1 Kitchen shears

1 citrus zester

or grater

1 citrus press

1 sharp knife

2 forks

1 large bowl
Ingredients
1

tablespoon

fat

duck, goose, bacon fat, lard, or tallow

6

cloves garlic

peeled and smashed

4

shallots

peeled and sliced

1

zest from an organic, unwaxed orange

zested and then juiced (or you can use 3-5 drops of wild orange essential oil)

1

the juice from the organic, unwaxed orange

2

lamb's kidneys

alternatively, use goat's or organic pig's kidneys

2

lamb's hearts

alternatively, use goat's or organic pigs' hearts

1.8

kg

pork off the bone

shoulder, leg or belly

3

teaspoons

medicinal mushroom seasoning

Get the recipe here (https://thefoodphoenix.co.uk/this-lions-mane-recipe-will-delight-your-tastebuds/)

1

teaspoon

fish sauce

optional

½

teaspoon

vanilla extract
Instructions
Peel and smash the garlic cloves with the flat side of a knife. Peel and slice the shallots. Zest the orange, slice it in half, then juice it. Set all these ingredients aside.

6 cloves garlic,

4 shallots,

1 zest from an organic, unwaxed orange,

1 the juice from the organic, unwaxed orange

Using kitchen sheers, cut the white core out of the kidneys and then slice them into strips. Cut the tough, collagenous blood vessels from the heart (the aorta and pulmonary arteries) and discard these. Then slice the hearts thinly using a knife.

2 lamb's kidneys,

2 lamb's hearts

I like to remove the skin to crisp it up in the oven and make pork rinds. But this is optional. If you wish to have crispy pork scratchings, use a sharp knife to remove the skin and set aside. Cut the pork into a few big chunks 7 or 8 is fine). In a large bowl, toss all the meats together in the medicinal mushroom seasoning and orange zest.

1 zest from an organic, unwaxed orange,

2 lamb's kidneys,

1.8 kg pork off the bone,

3 teaspoons medicinal mushroom seasoning,

2 lamb's hearts

Switch on your instant pot or other pressure cooker and set it to sauté. Heat the fat up and when hot add the shallots. Stir and cook for a couple of minutes until fragrant and clear. Then add the garlic, stir and continue cooking for another minute. Next add the orange juice and stir using a wooden spoon or spatula to lift up the brown bits. Add the fish sauce and vanilla extract and stir. Then add the seasoned mixed meats. Give everything a bit of a stir. Then cancel the sauté function, place on the lid and twist to lock it. Select manual and pressure cook for 55 minutes.

1 tablespoon fat,

6 cloves garlic,

4 shallots,

1 zest from an organic, unwaxed orange,

2 lamb's kidneys,

2 lamb's hearts,

1.8 kg pork off the bone,

1 teaspoon fish sauce,

½ teaspoon vanilla extract,

3 teaspoons medicinal mushroom seasoning

Either allow it to vent naturally or release the steam. When it's finished venting, open the lid. It will be rather soupy at this stage with a lot of liquid. I like to reduce the liquid until there's only a little sauce left before shredding the pork. So switch on the sauté function again and let most of the liquid cook off, stirring occasionally to make sure it doesn't stick to the bottom and burn. The pork will caramelize on its own fat and will start to fall apart.

When most of the liquid has evaporated (about 30 minutes), turn off the sauté function and use 2 forks to shred the pork. 

If you're turning the pork skin into crispy cracklings/pork rinds, salt well on both sides then place the skin with the fat facing upwards on a baking tray and roast in the oven at 140℃ (280℉) for 55 minutes while the meat is cooking. Then remove from the oven, flip it over so the skin side is facing up and pop it back in the oven. Turn the oven temperature up to 200℃ (390℉) for 10 minutes. It should be crunchy and very moreish.
Notes
If you'd like more offal, double up the heart and kidneys and reduce the amount of pork to compensate. You can also add in some sliced liver and/or gizzards with the silver skin removed.
If you're fortunate enough to be able to source fresh, raw lion's mane mushrooms, slice up some and add as well.