This recipe is for you if you're looking for a delectable and health-promoting way to prepare lion's mane mushrooms. Made with just a few simple ingredients, it's easy enough for even the most novice cook.
I was introduced to medicinal mushrooms shortly after discovering that I had Ehlers Danlos Syndrome in 2016. Back then, I suffered from a lot of fatigue, joint pains, brain fog, and anxiety. Then, through the Cusack Protocol for Ehlers Danlos Syndrome, I learned about lion's mane (Hericium erinaceus) and maitake mushrooms.
After that, I discovered some more medicinal mushrooms like reishi and turkey tail. And I've been including medicinal mushrooms in my diet since then because of their beneficial effects on metabolism, connective tissue integrity and gut health. Of course, I can't credit them for all the health improvements I've experienced, but they have played a role.
What are medicinal mushrooms?
Medicinal mushrooms are the fruiting bodies of fungi that have been used in traditional medicine around the world for centuries. They're renowned for their wide range of health benefits, including helping to boost cognitive function and improve immune system function. In fact, some studies have even shown that they can help to protect against brain damage and disease.
Health benefits of medicinal mushrooms
There are many health benefits to be gained from consuming medicinal mushrooms. For example, they contain high levels of antioxidants and polysaccharides, which can improve overall health by fighting off free radicals and boosting your immune system. Some of the other benefits include: 
Helping to reduce inflammation while enhancing your immune system

Lowering blood pressure 

Fighting infections through their antibacterial, antiviral, antiparasitic, and antifungal effects

Boosting nerve growth and protection   

Supporting your metabolism, helping you to maintain normal blood sugar responses and improving energy levels

Antitumoral effects arising from antiproliferative lectins, agents that 

trigger cell suicide in cancer cells

, and 

immune system enhancement
Supporting your health using medicinal mushrooms is incredibly important – not only does it provide tangible benefits for your body by providing a wide range of essential nutrients, but it's also a great way to reduce your risk of developing diseases in the first place.
The commonest nutrients found in medicinal mushrooms
Medicinal mushrooms are a great way to get your daily dose of essential nutrients and are high in antioxidants and polysaccharides. However, not all mushrooms are suitable for medicinal use, so be aware of the different types before purchasing.
Some of the most common medicinal mushrooms sold in powders and capsules include lion's mane, reishi, shiitake, and maitake. These highly beneficial fungi contain polysaccharides, proteoglycans, vitamins, minerals, enzymes, and other valuable nutrients. So whether you want to support your cognitive health or reduce inflammation, these are some of the best options on the market!
Mushrooms are great sources of the following nutrients and bioactive compounds:
Selenium,

Potassium,

B vitamins (especially vitamins B1 (thiamine), B2 (riboflavin), B3 (niacin), and B9 (folate),

Beta-glucans, chitin, and other polysaccharides,

Terpenes, also known as 

isoprenoids

, are agents with anti-inflammatory, antioxidant, antiseptic, antiparasitic, antiviral, antifungal, antidiabetic, and anticancer effects,

Steroids,

Anthraquinones (which have laxative, antimicrobial, and antioxidant effects),

Indole compounds

 (which scavenge free radicals, are anti-inflammatory, and include some psychoactive compounds like serotonin),

Benzoic acid derivatives (unfortunately, this means people with salicylate sensitivity may not tolerate them well),

Quinolones (antimicrobial compounds),

Proteins
Medicinal mushrooms can even act as metal chelating agents, enhancing their effectiveness in conditions characterised by heavy metal toxicity from agents like gadolinium-based contrast agents used for MRI scans, mercury and lead. You can find out more about gadolinium toxicity here, here, here, and here.
Neuroprotective and neurogenesis effects of lion's mane
One of the most fascinating features of lion's mane is its ability to protect against nerve damage and halt neurodegeneration. In fact, studies have shown that lion's mane and its extracts can help to improve cognitive function and protect against brain cell damage in rats and mice. This is due mainly to its powerful antioxidant properties, which stop harmful molecules from damaging neurons. Furthermore, it has also been shown to promote neurogenesis – the growth of new brain cells – which is essential for restoring functionality after neuronal damage.
This is why medicinal mushrooms like lion's mane and maitake are being investigated for their nutraceutical effects to protect against chronic diseases like Parkinson's, Alzheimer's, high blood pressure and stroke.
Lion's mane mushrooms for brain health
If you're looking for a safe and natural way to boost your cognitive health, look no further than medicinal mushrooms. They offer a wide range of benefits that support overall health and can help to prevent or reverse conditions like Alzheimer's disease and dementia.
When it comes to medicinal mushrooms, lion's mane is definitely at the top of the list. It has traditionally been used in East Asia for its potent health benefits. Lion's mane contains a high concentration of polysaccharides, including beta-glucans and mannan polysaccharides, which have been shown to:
Additionally, lion's mane is a rich source of antioxidants, including selenium and vitamin C.
So if you're looking for an easy way to improve your general well-being, then make sure to include some lion's mane mushrooms in your diet!
Many gourmet mushrooms are also medicinal mushrooms
So not only do they make great supplement add-ons, but they're also considered a delicacy by many of the top chefs in the world. The following mushrooms are prized for their culinary characteristics, boosting umami flavours in recipes and adding texture and appealing mouthfeel:
Lion's mane

Porcini

Oyster

Truffles

Morel

Maitake

Huitlacoche

Reishi.
One of my favourite ways to prepare fresh medicinal mushrooms like lion's mane, shiitake, maitake, or oyster mushrooms is to slice them and fry them briefly in duck fat and butter with a bit of salt. Unfortunately, fresh medicinal mushrooms can be hard to source. On the other hand, it's easy to find the loose, dried, powdered forms of many medicinal mushrooms from online stores.
So if you're looking for a nutritious way to add these beneficial fungi into your diet that will make your mouth water, this lion's mane mushroom recipe will be right up your alley! It's quick to prepare and will store for months in an airtight jar in the cupboard. Then it's a breeze to add some of this seasoning to meals. Simply use it to replace table salt, and hey presto! Or maybe even, hey, pesto!
You know what this seasoning would go great with?
Homemade french fries (chips in the UK),
Homemade potato chips (we call them crisps in the UK and Ireland)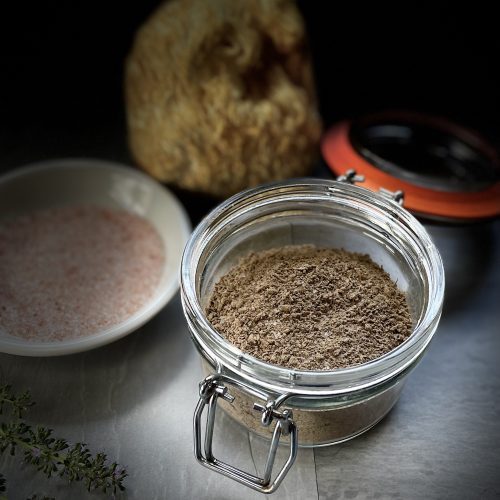 Medicinal Mushroom Seasoning
This lion's mane recipe uses dried, powdered lion's mane and reishi mushrooms to impart your seasonings with not just oodles of flavour but it also ramps up the health benefits. Fast and easy to prepare, you can throw this together in minutes.
Ingredients
15

g

powdered organic lion's mane mushrooms

0.5 ounces

15

g

powdered organic reishi mushrooms

0.5 ounces

200

g

Himalayan salt

2/3 cup

2

teaspoons

dried thyme

1

teaspoon

ground white pepper

optional. Omit for AIP diet
Instructions
Use a fork or spoon to mix all the ingredients together in a small bowl. Transfer to an airtight container like a glass jar. Store in a cool, dark place where it will keep for several months.
Notes
Use this seasoning to replace salt and pepper in recipes.